"Fran is a first-rate family lawyer of the highest calibre."
Legal 500 UK
The family practice group at B P Collins LLP is enhanced by the burgeoning expertise of partner Fran Hipperson. Aided by her extensive City law firm experience, Fran competently deals with the difficult issues involved in complex financial and children disputes following the breakdown of a relationship.
Acting on behalf of high net worth individuals, Fran's high profile cases frequently involve complex jurisdictional, trust, business and tax issues. In addition to this she also advises on cases under Schedule 1 of the Children Act as well as private children matters.
Fran has commented on domestic abuse during lockdown for Glamour magazine and divorce during lockdown for Aviva magazine.
Fran is an active member of the family practitioners group Resolution and believes in their holistic approach to resolving matrimonial disputes, ensuring that the end result can benefit the entire family.
Fran was made partner in May 2017.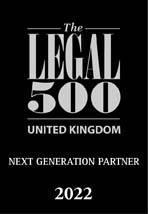 Dancing to the beat
Outside of work Fran enjoys maintaining her physical fitness with aerobics which allows her to mix exercise with another one of Fran's passions, music.
Previous experience
Having trained and qualified at Charles Russell LLP, Fran worked at the well-known city law firm Payne Hicks Beach before joining B P Collins LLP in September 2011.
Education
Fran attended the University of Wales in Cardiff before studying at the college of law in Guildford. She qualified as a solicitor in 2006